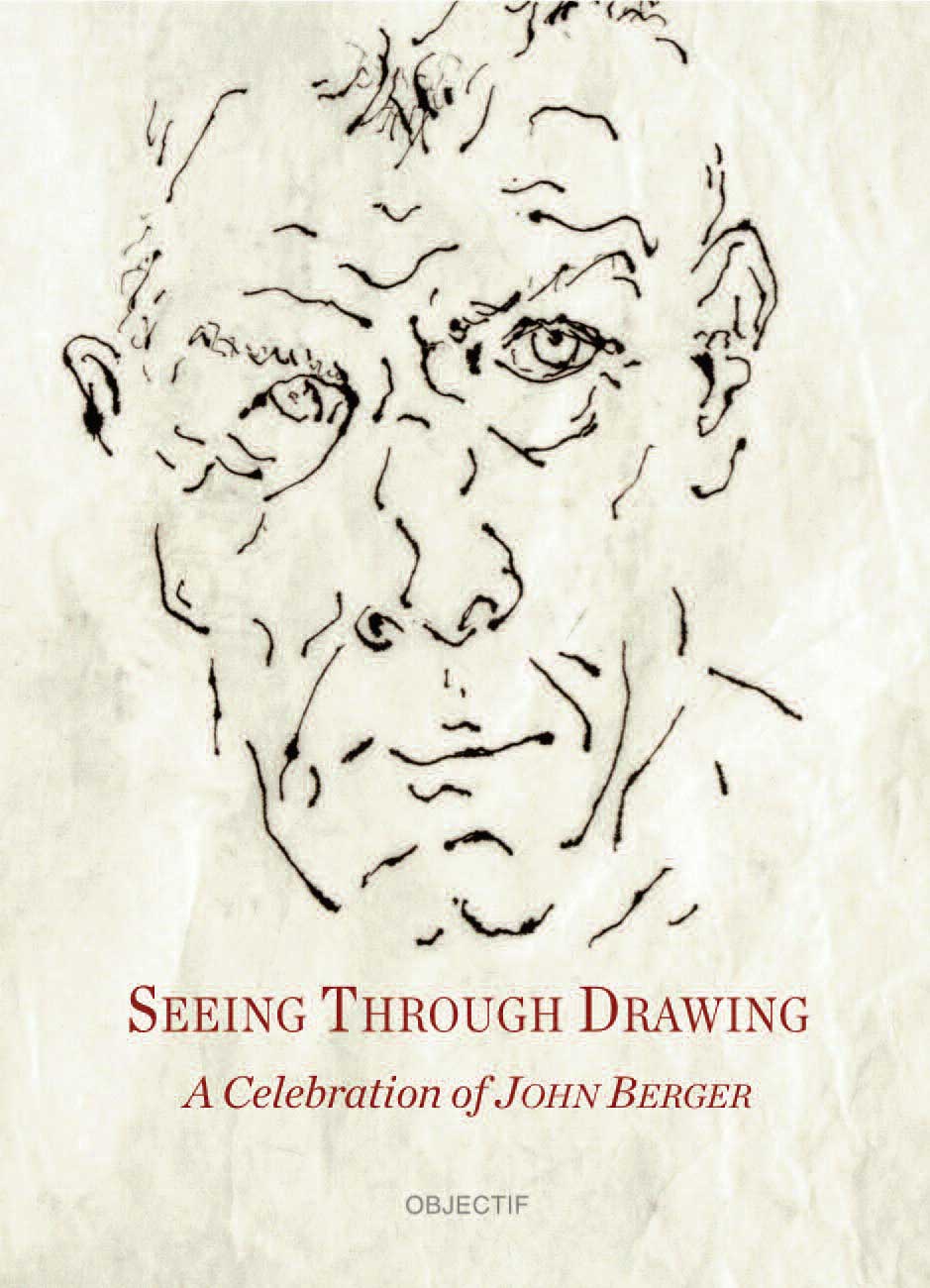 I was asking you: where are we when we draw? The question seems to be expecting a spatial answer, but mightn't it be a temporal one? Isn't the act of drawing, as well as the drawing itself, about becoming rather than being?
Isn't a drawing the polar opposite of a photo? The latter stops time, arrests it; whereas a drawing flows with it. Could we think of drawings as eddies on the surface of the stream of time?
from a dialogue between John Berger and his son Yves
Seeing Through Drawing is a celebration of the writer, critic and artist John Berger and his passionate love of drawing. This 144-page paperback book, edited by John Christie, brings together a selection of John Berger's own rarely-seen drawings from his art school days in the 1940s up until a year or so before his death in January 2017.
Also featured are new tributes and memories from some of his close writer-friends including a moving meditation and poem from Canadian poet and novelist Anne Michaels and an illustrated fax communication between John Berger and Barcelona-based curator and writer Eulàlia Bosch. Geoff Dyer describes a visit to the Somme in Berger's company for BBC Radio and the drawing that John did of him during that trip. Curator and editor Gareth Evans, contemplates the human act of drawing and psychotherapist Paul Gordon describes a surprise parcel, a drawing by John Berger, a gift from one motorcyclist to another. Biographer and archivist Tom Overton recalls his friendship with John; 'I was only reminded of the distance in history between us when we talked about how T. S. Eliot loved music hall: I knew that from a footnote in a book; he knew it from having had supper with him.'
The book also contains two previously unpublished SMS text sequences on art and communications between John Berger and his daughter, the writer and film critic, Katya Berger Andreadakis plus a moving account by his son Yves Berger of drawing his father in his coffin, which echoes John Berger's own essay 'Drawn to That Moment' about making a drawing of his dead father in 1976.
The book features a compilation of writings on the art and practice of drawing collected together by John Christie from across John Berger's art criticism, fiction, essays and letters.
The second part of the book is dedicated to the work, statements and memories of the artists who took part in the celebratory drawing exhibition 'Seeing Through Drawing' curated by Martin Battye and John Christie at Mandell's Gallery, Norwich in July and August 2017.
Artists featured include John Berger's contemporaries, Frank Auerbach, Leon Kossoff, Derrick Greaves, Robert Medley and Peter de Francia; along with 30 or more invited artists for whom drawing is an important part of their current practice including Basil Beattie RA, Maggi Hambling, Hughie O'Donoghue RA, Eileen Hogan, Graham Crowley, Jane Harris, John Kiki and many more...
The 144-page full-colour paperback book can be ordered directly from Objectif. If you would like to know more about the book or enqire about ordering a copy please email: john@objectifpress.co.uk
ISBN:

978-1-9997123-0-3

Publication:

8th July 2017

Format

Paperback, full colour throughout 220mm x 160mm
Price: £16.00
Postal charges will be added at the checkout